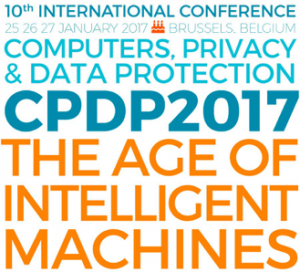 Text and Data mining is an increasingly powerful and efficient tool for linking and analysis of large amounts of data. This in combination with the pervasiveness of data collection may have undesired consequences such as the re-personalisation of pseudonymous data and the gathering of sensitive personal information about individuals.
CPDP Roundtable : Research and the right to mine (personal) data ?
TDM practitioners taking part in the FutureTDM stakeholder consultations have mentioned privacy and dataprotection regulations to be a barrier for Text and Datamining. See our FutureTDM practices report1.
To gain more insight into the issues we are organizing a roundtable session at this years Privacy&Date Protection (CPDP) conference in Brussels.
CPDP2017: The age of Intelligent Machines
CPDP is one of the leading data protection and privacy conferences in Europe and around the world. It is a multidisciplinary conference where academics, lawyers, practitioners, policy-makers, industry and civil society meet to discuss legal, regulatory, academic and technological development in privacy and data protection. You can find this years programme and list of confirmed speakers here.
For our roundtable on Friday the 27th we have invited an excellent group of experts who together with the participants will discuss the impact of data protection regulations for the uptake of advanced data analysis technologies like TDM.
What are the main barriers for TDM based on privacy and data protection

What is the scope of the data protection regulations concerning TDM

How do we make TDM privacy compliant
We look forward to an engaging discussion. If you have any questions or would like to share your views don't hesitate to join us or follow us @FutureTDM
Contact: freyja.vandenboom@okfn.com
1 Deliverable 4.3 Compendium of best practices and methodologies
// All blog posts are the personal opinion of the bloggers. For more information see FutureTDM's DISCLAIMER on how we handle the blog. //