Throughout the FutureTDM project, we have published a range of awareness sheets that cover different factors that have an impact on TDM uptake. With input coming from our expert reports, interviews and discussions through the Knowledge Café events, these sheets raise awareness of outcomes of high interest to people who work in text and data mining, big data and data analytics. Awareness sheets were produced in six different categories: Challenges, Organisations, Stories, Projects and Tools. In this blog we highlight the five sheets produced in the category Organisations, which give an interesting insight into how TDM can be taken up by different stakeholders.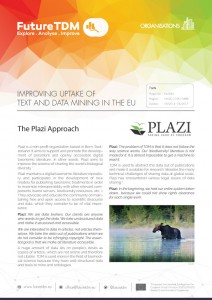 The Plazi Approach  
Plazi is a non-profit organization from Switzerland that supports and promotes the development of persistent and openly accessible digital taxonomic literature. They take abstract, often unstructured data from publications in the field of biomedical science and make it structured and accessible through the use of text and data mining. In doing so, they face a number of legal and technical barriers, for example regarding the correct attribution of data.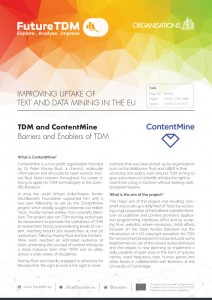 TDM and Contentmine - Barriers and Enablers of TDM
ContentMine is a mission-driven non-profit that aims to demonstrate the usefulness of content mining (also called text and data mining) and to provide tools and services to others. They provide open source software to download and analyse large quantities of scientific papers, and advocate for the wider uptake of TDM through their 'Right to read is the right to mine' campaign. This awareness sheet discusses both the aim of ContentMine and the barriers and enablers they experience in the TDM field.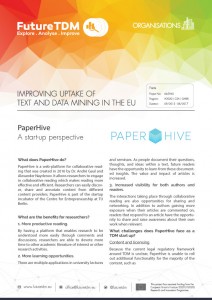 Paperhive: a Start-up Perspective  
PaperHive is a web-platform which allows researchers to engage in collaborative reading. Researchers can easily discover, share and annotate content from different content providers. Because the current legal regulatory framework around TDM is unclear, PaperHive is unable to roll out additional functionality for the majority of the content. In addition, they face challenges with regard to data format and data quality. The sheet ends with a list of recommended practices for TDM, from PaperHive's perspective.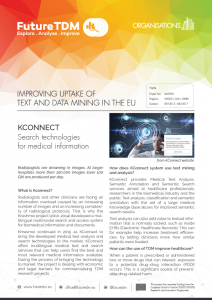 Kconnect: Search Technologies for Medical Information
KConnect offers multilingual medical text and search services that can help users find the best and
most relevant medical information available. During the process of bringing the technology to market, the project is dealing with economic and legal barriers for commercialising TDM research projects. Following an introduction on how TDM can be beneficial to healthcare, the sheet outlines these barriers, with the hope that others that wish to bring TDM research projects to market can learn from them.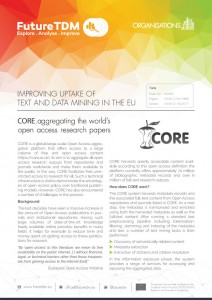 CORE: Aggregating the world's open access research papers
CORE is a global large-scale Open Access aggregation platform that offers access to a large volume of free and open access content. Its aim is to aggregate all open access research outputs from repositories and journals worldwide and make them available to the public. In this way, CORE facilitates free unrestricted access to research for all. They address a number of challenges faced in the TDM field, most importantly the lack of a technical infrastructure demonstrating the advantages of OA policy over traditional publishing models.

The complete awareness sheet collection is available from www.futuretdm.eu/awareness-sheets: if you want to read more about best practices in TDM, read our full Compendium of Best Practices and Methodologies.