On 27 September 2016, FutureTDM held our first Workshop in Brussels. The event was sponsored and Chaired by the European Parliament Digital Agenda Intergroup - a cross-party and cross-nationality group of 76 MEPs who are interested in digital technologies and in how they can benefit society. FutureTDM invited the Brussels policy community (and beyond) to this event. Attendees included EU policy shapers - advocacy organisations and representatives from the Parliament Commission and Council - alongside the broader TDM community that we have been engaging with for the past year. Our speakers represented the different areas of expertise held in the project consortium. As a project on research and innovation, we heard presentations from the TDM community (University and Startup) and from our sister project OpenMinTeD.
The workshop was split into two parts. Part one reflecting on the project's evidence gathering over the past 12 months and part two looking to the next phase which will be policy recommendations based on expert analysis of this evidence. The timing of the workshop was not insignificant, coming just two weeks after the Commission launch of the EU copyright reform proposals including a copyright exception for text and data mining. The wording of the TDM exception is to be a hot topic in EU policy over the coming months as the proposal is shaped and amended by the institutions.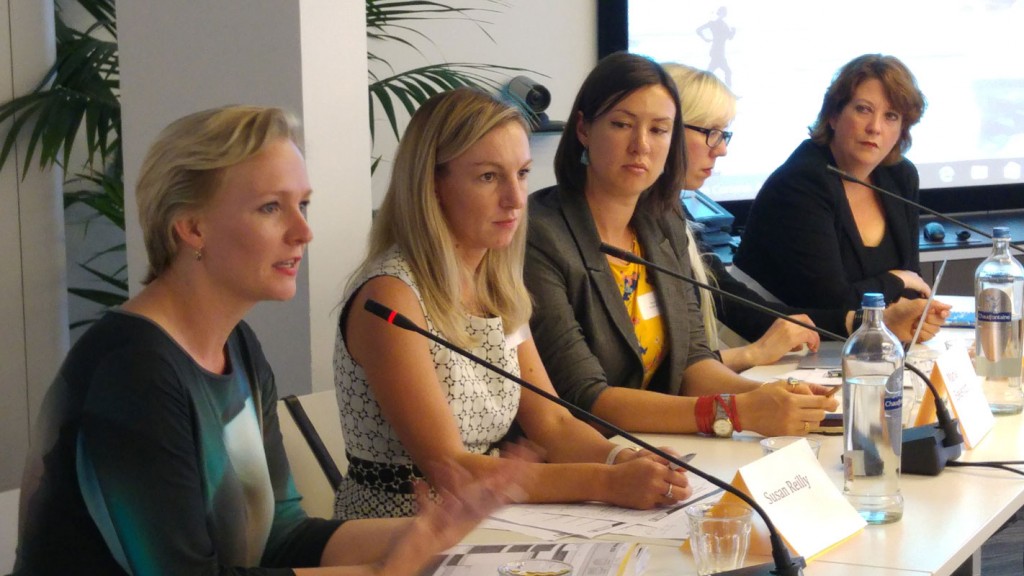 Session one was chaired by Marietje Schaake MEP:
She opened the workshop saying she was pleased to see a panel of all women.
We are building a broader coalition than FTDM here, with multiple stakeholders helping Parliament make the right decisions.
Representing the digital agenda intergroup, she was here to learn. With copyright there is work to do. This session would help to bridge the distance between the jargon - the technical and the policy. "We are building a broader coalition than FTDM here, with multiple stakeholders helping Parliament make the right decisions."
Introduction: TDM - The Opportunities and the EU Conundrum - Why Aren't We Doing More?
Susan Reilly, Executive Director of LIBER provided some examples of text and data mining, its potential in different fields and what the FutureTDM project is aiming to achieve. The importance of taking part in the project was highlighted - including our current quick poll. Slides available here.
So Where Are We Now? The TDM Landscape
Maria Eskevich from the Centre for Language and Speech Technologies, Radboud University provided an overview of TDM practice in the EU, highlighting TDM presence across all the sectors. Emerging from this presentation was a need to raise awareness of the potential, to promote and encourage sharing of TDM experience and knowledge across the fields and to ensure legal clarity for TDM activity. Slides available here.
What Have We Learned From Talking With the TDM Community?
Freyja van den Boom, Researcher at Open Knowledge International explained how the project has been engaging with the TDM community and the feedback we have been getting so far from those taking part in our knowledge cafes and interviews on issues around legal clarity, economic incentives, technical infrastructure and skills. Slides available here.
The Legal Factors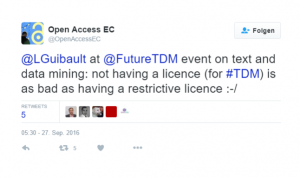 Lucie Guibault, Associate Professor, Institute for Information Law, University of Amsterdam explained that the project has been hearing from legal experts from across Europe to get a portrait of the legal situation. With the result that legal clarity is required for TDM in relation to copyright, data protection and database rights. Some pertinent questions were raised: in TDM copyright reform do we need to mention the beneficiary? What is the purpose of use? If that is specified why do we need to mention the organisation? Slides available here.
In the lunch break participants were treated to a few of the latest project videos which are also available on our website home page:
Part 2 of the workshop was chaired by intergroup member Catherine Stihler MEP who emphasised the importance of the community participating in the TDM debate - and feeding back to the project.
FutureTDM "Talking Points" and How the Project Will Set Out Recommendations
Ben White, Head of Intellectual Property, British Library provided us with some striking facts and figures as a backdrop to our "talking points" slide. He then highlighted the next steps in the project, the reports in which policy recommendations and roadmaps will be included.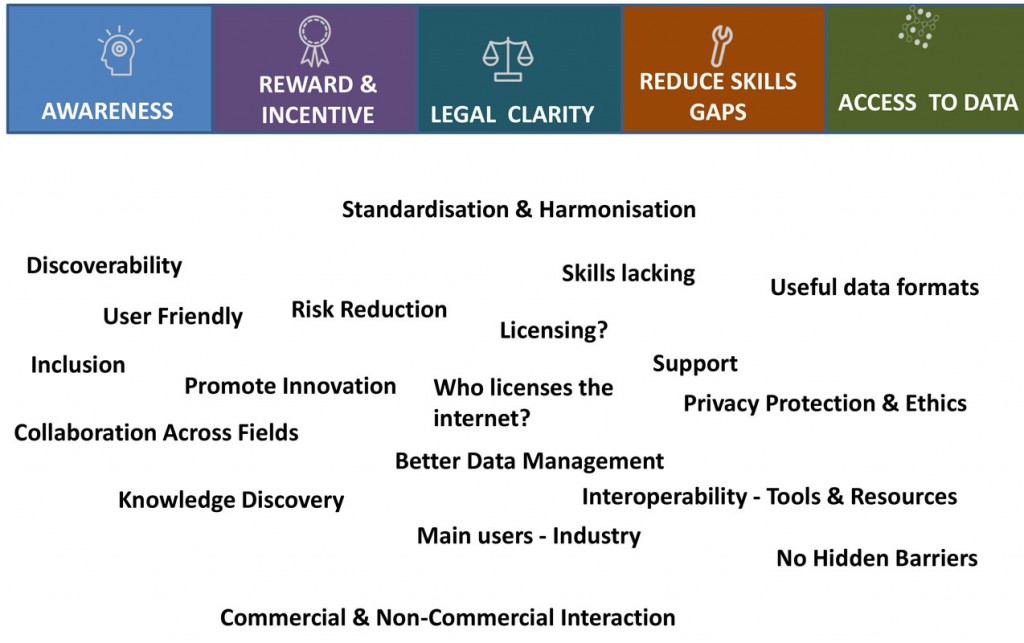 Expert Panel: Reflections on How Key TDM Issues Relate to Their Sectors
Stelios Piperidis, Head of Department, ILSP/ARC gave us an overview of the OpenMinTeD project which is building a TDM infrastructure. This sister project to FutureTDM has more of a practical and technical focus but their findings are relevant to help with policy formulation. Particularly in terms of ensuring that we facilitate TDM interoperability and discoverability and access to languages outside of English. The project is also facilitating TDM uptake with legal laundry tags to map licenses and legal contracts which will help with collaboration across borders and disciplines. Slides available here.
Lenard Koschwitz, Director European Affairs, Allied for Startups explained how his organisation aims to help startups understand policy - and to help policy-makers understand startups. He explained that while lots of startups use TDM, following the Commission copyright proposals, there is uncertainty for startups while it has been increased for other groups. It will make it harder for them to raise money or convince an investor just when need to make it easier for companies - who want to stay in the EU - to do that. Startups are very mobile they have the potential for quick reactions - they will go where there is investment potential. So the EU would be doing Member States a favour to help foster these startups.
Sophia Ananiadou, Professor at the University of Manchester and Director of the National Centre for Text Mining talked about the experience of NaCTeM - the first publically funded text mining centre. The centre provides Tools, services, resources and infrastructure to the TDM community. Professor Ananiadou concluded that the TDM exception is working in the UK indeed NaCTeM's offerings were possible because of it. However a TDM copyright exeption excluding commercial use ultimately hampers innovation. On top of this, training is urgently needed and libraries could play a huge role in centralising efforts and managing annotations.
Workshop Round-Up
Julia Reda MEP one of the Founders of the Digital Agenda Intergroup provided the workshop keynote summary reminding participants that the European Parliament is now faced with the challenge to assess the Commission's copyright proposal - taking into account the breadth of sectors and the different perspectives.
"a mandatory TDM exception is therefore a good step from the Commission. However, as we have heard today, it is just some users that are helped by the exception ie the universities. Some are left on the outside."
She posed the question, what is it all for? If we are to "unleash the EU's digital potential" as the Commission has suggested, then TDM has that potential but with the right legal framework. She stated, "a mandatory TDM exception is therefore a good step from the Commission. However, as we have heard today, it is just some users that are helped by the exception ie the universities. Some are left on the outside." In her speech Julia Reda also highlighted another of the key issues to emerge from the workshop the need for skills and know-how "but if you tell people "you can't" then how do we help that? Think about how most people affiliated with research organisations are older than their mid 20s. So a focus on organisations rather than individuals is not the right approach. It won't produce a new generation of text and data miners." In emphasising again those important groups such as startups and journalists, Julia Reda reiterated the general view held at the workshop - let's not be too narrow. Because TDM is more than just publishers versus researchers, we need legal reforms that stand the test of time.
Feedback
To make effective recommendations, it is vital that the FutureTDM project gets to hear from the TDM community. We invited workshop attendees to share their own sector-specific views on why we don't do more TDM in the EU, and - where possible - to suggest solutions. They did this during the Q and A sessions and by filling out the workshop feedback cards in the delegate packs.
Some key issues raised during the Q and A were:
Preparation and sharing of data

Scope of the directive and who it should apply to

The interaction between commercial and non-commercial

Public private partnerships (PPP)

Can we make a copy to keep and can we then share it?

Access to APIs?

How to enhance TDM skills and in different countries?

It is useful to reduce barriers so people feel they can try skills and testing ie in scraping without fearing they will end up in trouble

Having a single point of contact for information, support or access to content
Some comments from the feedback cards
"Let's have TDM as a mandatory exception for all users with legal access (not only non-commercial actors) instead of a limited part of copyright reform" (Digital network)
"The perception seems to be that legal barriers are very significant. This is true but other issues such as skills and infrastructure are equally if not more significant and these will take a long time to address." (Consultant)
"Very interesting mix of viewpoints from scientists, practitioners and regulators." (Regulatory Affairs) (Consultant)
"Definitions of TDM may actually be the largest barrier in the copyright/legal discussions on making progress." (Legal)
"Licensing remains for us the most certain legal solution, achieving a good balance between different stakeholders." (Press publishers)
"The right to read is the right to mine!" (Research)
The videos provides a flavour of the workshop and we still want to hear from those who couldn't attend - you can blog on our website futuretdm.eu or tweet us your thoughts on our "talking points" at #FutureTDM
In the coming months we will be speaking at events and producing reports with roadmaps and policy recommendations for improving TDM uptake. All of our reports and materials can be found in the FutureTDM library. We hope to hear from you.